Check this site for information on Anthony appearences!
---
Anthony D'Amato wants YOU!

Are you a talented and hip musician?
Are you interested in embarking on a new musical journey?
Are you ready to rock the f-in socks off of the music scene?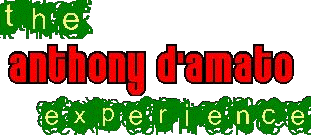 new band that fuses pop, rock, funk, acoustic, and electronic

I'm looking to start from scratch. I'm looking for people with different backgrounds, styles, attitudes, appearences... and put them all into our own unique style. I'm looking to blow people away with sounds they never thought they could hear, and something they haven't seen before. I'm looking for this to be an experience for the band and for the audience.
Looking for:
- Guitar players (electric lead, rhythm/acoustic player, bass)
- Drummer (who can also play electronic drums)
- Keyboard/Synth player
- 1 Male Backup Vocals (wide range, rock/pop style)
- 1 Female Backing Vocals (wide range, rock/pop style)
- 1 (or 2?) Vocal Percussion/Beatbox

If interested, please contact Anthony at
anthony@anthonydamato.com